Following our tour around Ha Long Bay and a few days in Hanoi, we made our way south further down the coast of Vietnam to see what more awesome culinary delights and historical sites we could find. Having originally planned to take the train from Hanoi to Hue, we instead opted for the faster means of a Jetstar Pacific domestic flight from Hanoi to Da Nang to start our exploration of a different part of the country.
I was super keen to check out Hoi An as I'd heard about how it was a former fishing village and shipping port that was essentially frozen in time. The Chinese/Japanese traders exerted heavy influence on Hoi An in the 1600's, but when Da Nang evolved faster with a deeper harbour, Hoi An faded away out of the trading limelight. What's left today is a quaint little pedestrian only village that feels like you've just stepped into an Oriental hamlet of 400 years ago.
Things to See and Do
Hoi An is all about the UNESCO Heritage listed Old Town with all its characteristic faded yellow townhouses. With no cars allowed, it's a lot calmer than other Vietnamese towns and the lack of any risk of being cleaned up by a little Daewoo allows you to relax and take it all in a bit more.
The Old Town is only a few blocks wide, perfect for simply wandering around and discovering the galleries, tailors and craftsmen, which I'll tell you more about soon.
Japanese Covered Bridge
One of the centrepieces of the Hoi An, the Covered Bridge is a remnant of the heavy Japanese influence on Hoi An in the 1600's. The bridge was originally constructed to connect the Japanese community with the Chinese quarter – separated by a small stream of water as a symbolic gesture of peace.
Roughly 40 years after the the Japanese Bridge was constructed, the Japanese were demanded to return home to Japan under order of Sakoku – the act that officially closed Japan to the rest of the world until the mid 1850's. Interestingly, the bridge is the only one in the world with a Buddhist temple inside it.
Shopping in Hoi An's Artisan Tailors and Galleries
Hoi An is known for its fine tailoring, custom leatherwork and bespoke fabrication. They're so good that many craftsmen can reproduce something you show them in a magazine or catalogue in as little as 2 days. The leatherworkers can spin up replicas of satchels, handbags or backpacks in exactly the right colour, size and configuration you want.
I had a crack at having a bag made for work, and after I forked over the US $100 for it the lady running the shop really took her time to understand everything about the bag. She asked loads of questions like how big I wanted it to be, what kind of pockets and zips I wanted, how wide I wanted the shoulder strap to be and even what kind of fabric I wanted inside it. Unfortunately the shop couldn't finish it by the time we had to leave, but they gladly refunded my money, which was refreshing in a country like Vietnam that has a reputation for ripping people off.
Away from leather goods, there are loads of shops that can make custom-tailored dresses, suits, shirts and pretty much any garment you can think of. If you need some great fitting clobber for a good price, get it made up here.
Food and Drink
Eating in Hoi An is like everywhere else in Vietnam – it's all about the street. Food vendors ply the streets selling everything from the local variation of pho to sweet and savoury snacks to have on the go. Get your dong out and eat while you wander.
Morning Glory
For a comfortable and affordable dinner, check out Morning Glory. It's a really casual place and takes street food into a refined restaurant setting. Set in an old colonial building (like a lot of the rest of Hoi An), it's one of the more in-demand restaurants in the Old Town (so try and make a booking).
The first thing you notice when you enter is that a kitchen is right in the middle of the restaurant, exposing all the delicious food being prepared by the cooks to everyone dining on the downstairs level.
The first thing we got into was Morning Glory's speciality of the pork "roll it". They come as a set on a platter and you take your rice paper, add greens and then a big skewer of pork and wrap it all up into a package of juicy Vietnamese deliciousness. They were so good we got seconds while we waited for our mains.
Speaking of mains, I had the cinnamon beef stew that literally fell apart as I tried to tuck into it. Complimented by big chunks of carrot, the beef was a great change from all the pork I'd had recently throughout the rest of Vietnam.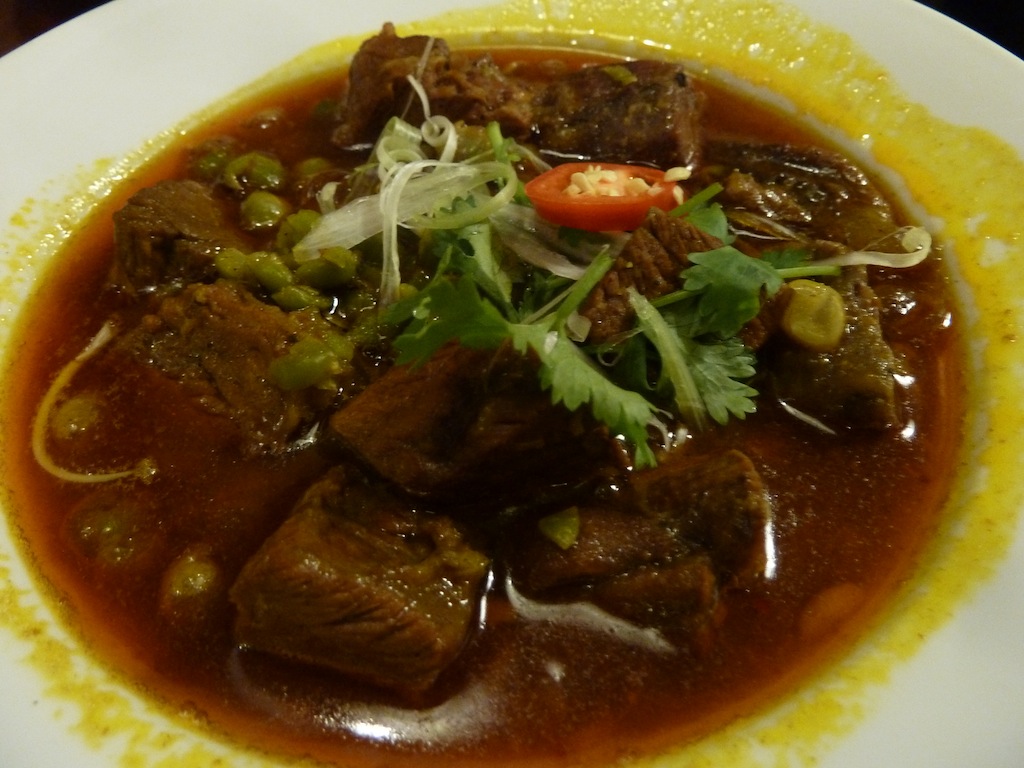 The owners of Morning Glory also run Cargo Club on the same street, which has a wide selection of pastries and desserts and makes for a great place for coffee after dinner.
How to get there
Getting to Hoi An is a bit more involved than other cities in Vietnam as it doesn't have its own airport. Your best bet is to fly into the brand new Da Nang airport with AirAsia, Vietnam Airlines or JetStar Pacific and then take a taxi to Hoi An. In standard Asia form, you'll get bombarded by taxi drivers as soon as you exit the Arrivals hall. A taxi to Hoi An should only be about USD $15, and make sure you be firm on where you want to go as taxi drivers trying to get you to their mate's hotel is pretty common.
A bit of orientation
Here's a handy map laying out all the sights mentioned above to give you an idea of where things are in Hoi An. Click on the markers to see the sight listed and zoom and pan around to see more of the map.

View 48 hours in Hoi An in a larger map
Get around in Hoi An
As Hoi An is pretty compact, you'll find that most of it is easily walkable. But if you do find yourself with tired feet, grab a green Mai Linh taxi or try your luck with a cyclo (but make sure you agree your price before you get on).
The hotel I'm about to tell you about is a bit far out of town, but luckily they provide a regular, free shuttle into town. Just one of the many amazing services they provide.
Where to stay
When you're up for indulging yourself, take a look at The Nam Hai Resort. You immediately get the impression of luxury and opulence as you drive through the main gates and along the beautifully manicured garden to the welcome centre. Greeted by the friendly check-in staff by name, you take a seat in what seems like a sumptuous office that has had all four walls taken down, exposing the insides to the warm, breezy ocean air. From here, the experience begun.
We were escorted in a golf buggy to our private villa and toured around the extensive interior that made me feel like I'd just had a couple of zeros added to my yearly salary. This villa was less of a hotel room and more of an extensive opulent oceanside luxury experience. The first thing I noticed was the relaxing ambient music playing from the villa's sound system. I immediately felt chilled out and like I never wanted to leave this place.
The bed was the central focal point of the villa, propped up on its own stage and surrounded by 6 silk curtains that created a bedroom within a room after dark. The villa descended gradually down 3 levels until you reached the sitting area with 2 plush sofas overlooking the gardens outside.
Making your way around the gradiose bed, you're met with artistically carved sliding doors that open up into a cavernous his and hers affair of a bathroom, including individual dressing rooms. This place literally kept getting better and better.
Venturing outside, you're greeted with a private courtyard and an outdoor shower. I'd never stayed anywhere with a shower outside, my jaw was on the marble tiled floor. It was obviously the only choice for cooling off in the afternoon after a warm day exploring Hoi An.
After we got over the amazing interior of our villa, it was time to stroll along the beach and check out more of what the Nam Hai had to offer in the pool department.
The Nam Hai features at least three pools in the main area, each appearing to cascade into the other and then into the waves beyond as they break on the beach. Each pool has a specific purpose including a family pool and a lap pool, allowing everyone to be happy with their water-based activities.
Once the sun went down and we returned from dinner in town, we entered the villa to be greeted with this incredible turn-down service.
The entire place had been turned into an oasis of after-dark tranquility. The music had been set to an even more relaxing soundtrack and all six curtains had been pulled closed to create that room within a room and produce a more intimate vibe within the expansive open-planned villa.
The next morning we called for a pickup by a resort golf buggy and were brought to the breakfast area. If you follow my blog, you'll know that breakfast is usually my favourite part of any hotel stay, and in this case I was definitely not disappointed.
The buffet area featured an absolute forest of different yogurts, mueslis and pastries to feast on before the main event; which consisted of a selection from the concise yet diverse a la carte menu. I went for a Vietnamese pork char siu, which is a bit unconventional for breakfast, but I wanted to do as the locals do and enjoy something a bit different.
Overlooking the pool area, we enjoyed our delicious breakfast in relative quiet and thought about the once in a lifetime place we'd spent the night in.
Although we weren't looking forward to checking out, we knew we'd been treated to something special and couldn't wait to tell our friends when we got home.
Budget
Price wise, Hoi An is about the same as Hanoi. Meals will set you back about 80,000 to 120,000 dong and beers are around 40k dong each. For a taxi back to the Nam Hai from Hoi An (if you need to get back when a shuttle isn't running), it'll cost you around $5-$10 USD.
Rates at the Nam Hai start from $650 (£418) excluding taxes per villa per night, including daily buffet breakfast for two people at The Restaurant, daily complimentary shuttle to Hoi An and complimentary non-alcoholic beverages from the minibar. Stay at The Nam Hai for 4 nights and pay for 3 or stay 7 and pay for 5, valid until 20 December 2013.
For more information please visit: www.masonrose.com/namhai or www.thenamhaihoian.com
Conclusion
Hoi An really put the icing on the cake for me in Vietnam, as it had so much individual heritage, character and charm that sets it apart from cities throughout the rest of the country. Seeing how well the old buildings have been preserved and the lack of cars makes it into a great place to relax and just soak up the special vibe of the town.
Disclosure: Our stay at the Nam Hai was provided complimentary and all opinions are my own, as always. I couldn't write a bad thing about their digs anyway, it was absolutely amazing.